Responsive Websites Design
Feel Proud of Your Website!
Responsive Web Design is the strategy that suggests design and development should respond to the user's behavior and environment based on screen size, platform and orientation.
At Strata Digital Geeks our passion is to provide innovative, highly functional, visually appealing and feature-rich website designs that drive business growth.
Extend Your Reach with a responsive web design!
From desktop to mobile, a responsive website adjusts itself automatically to the varied screen sizes it is opened on. The content, images and other multimedia elements reorganize themselves to fit the screen, eliminating the need for horizontal scrolling.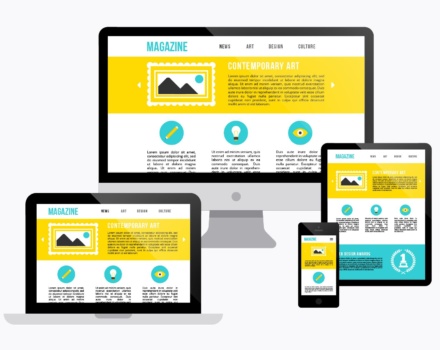 How a Responsive Website Design Can Help Your Business?
Time Saving
Responsive website design services allows you to optimize your business for all the devices with a single website.
Screen Adjustable
It automatically adjusts to your screen size and you get a quality user experience.
Search-Engine Friendly
Responsive design offers you clean and user-friendly layout as it affects search engine rankings on mobile devices…
Customer Satisfaction
It creates customer satisfaction and builds trust and trust builds revenue.
Social Sharing
Responsive web design may create social sharing easier, helps to grow an even bigger audience.
Maximize Online Presence
A well-designed and well-marketed website will work with mobile users only when it is responsive.
Get your site working on all devices!
Get ahead in the competition with responsive web design. Contact us to know how we can help you with this. Basic Responsive Design Features We Focus On:
Basic styling for mobile devices
Smooth and enhanced user experience
Effortless uploading of the information
Optimization for search engines
Providing support for all browsers
Fixing the media display issues
Tell us about your project
Let Us Help You to Get Your Business Online and Grow it with Passion.